Meghalaya Congress Candidates List 2023 – Check Final List of All candidates. The Congress has released its final list of candidates for the Meghalaya Assembly elections. A senior party leader gave this information on Sunday. Meghalaya Pradesh Congress Committee president and MP Vincent H Pala said the final list of five candidates was approved by the Central Election Committee (CEC). The five candidates are Zhnika Siangshai (Khalihariat), Arabiangkam Khar Sohmat (Amalarem), Chireng Peter R Marak (Kharkutta), Dr Tweil K Marak (Resubelpara) and Carla R Sangma (Rajbala).
The party had on January 25 announced the names of 55 candidates for the 60-member state assembly. Elections to the Meghalaya Assembly are scheduled to be held on February 27 and the last date for filing nominations is February 7. The counting of votes will take place on March 2.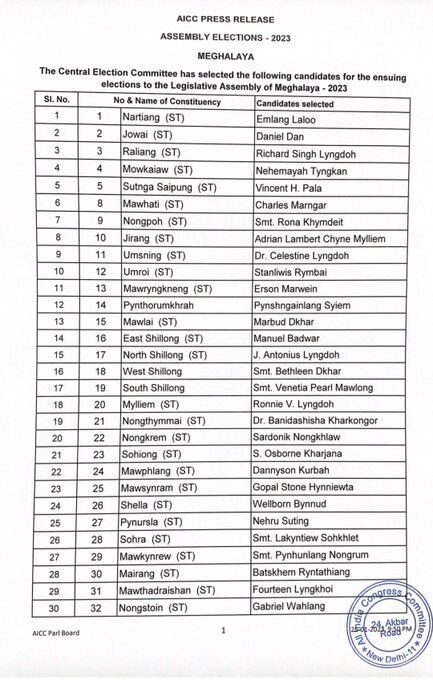 Meghalaya Congress Candidates List 2023 – 60 Candidates List
The party on January 25 had announced the names of 55 candidates for the 60 member State Assembly. The Congress has released its second list of five candidates to contest in the upcoming assembly elections, which could fill all 60 seats. Zhnika Siangshai for Khalihariat, Arabiangkam Khar Sohmat for Amalarem, Chireng Peter R Mark for Kharkutta, Dr Tweil K Marak for Resubelpara and Carla R Sangma for Rajabala constituency are the candidates.
All five candidates are new faces. Tura, the candidate from Kharkutta, is the brother-in-law of NPP MP Agatha Sangma. He had resigned from the NPP and joined the Congress earlier this month. Padma Awards Winners List 2023 – Check Full List
Jhanika Siangshai- Khliehriat
Arbiangkam Khar Sohmat- Amlarem
Chireng Peter R. Mark- Kharkutta
Dr Tweel K. Marak- Resubelpara
Carla R. Sangma- Rajabala
Emlang Laloo
Daniel Dan
Richard Singh Lyngdoh
Nehemayah Tyngkan
Vincent H Pala
Charles Marhngar
Roha Khymdeit
FAQ : Meghalaya Election 2023
How Many Seats Are There In Meghalaya ?
Ans ; There Are Total 60 Seats In Meghalaya Legislative Assembly.
What is Election Date 2023 In Meghalaya And Result Date?
Ans : Election Will Held On 27 February 2023 And Result Will Out On 2 March 2023.