CGHS Hospitals List 2022 PDF, List of Empanelled Hospitals, Centres – Here We Are sharing Latest Updated List Of all CGHS Hospitals With State Wise.  Central government employees, pensioners, family pensioners and dependents of eligible families are a major part of the beneficiaries of this scheme. Important medical service cashless treatment is provided to all the entitled customers of CGHS as per the existing CGHS rules or CS (MA) rules. A CGHS card or referral letter is required to get treatment in any government or private empanelled hospitals.
The Central Government Health Scheme (CGHS) is a cashless or low-cost medical scheme for central government employees, pensioners and their family members. The latest list of CGHS empanelled government and private hospitals for all CGHS cities in India is given below. List including eye clinics, dental clinics and diagnostic centers and other hospitals. SSC CGL Post Code List : Latest Updated List Of All Post Codes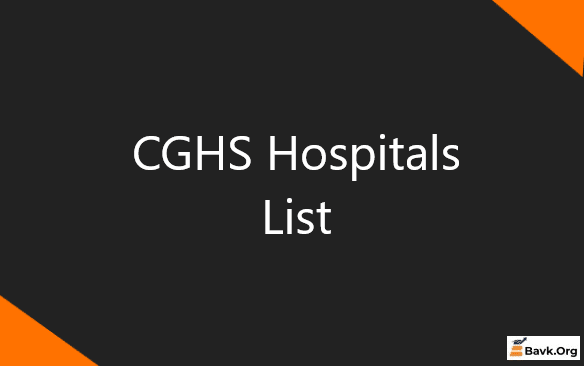 CGHS Hospital List All India PDF 2022
CGHS Agartala Hospital List 2022
CGHS Agra Hospital List
CGHS Ahmedabad Hospital List
CGHS Allahabad Hospital List
CGHS Ambala Hospital List
CGHS Amritsar hospital List
CGHS Bangalore Hospital List
CGHS Bareilly Hospital List
CGHS Bhopal hospital List
CGHS Bhubaneswar Hospital List
CGHS Chandigarh Hospital List
CGHS Chennai Hospital List
CGHS Cuttack Hospital List
CGHS Dehradun Hospital List
CGHS Delhi Hospital List
CGHS Delhi NCR Hospital List
| | |
| --- | --- |
| Scheme | Central Government Health Scheme |
| Beneficiaries | Central Government Employees and Pensioners |
| Charges | Minimum Lifetime Charges according to their pay level |
| Coverage | Important Cities across India |
| Hospital | Government and Empanelled Private Hospitals |
How to Check List Online For Treatment?
Process to check list of empanelled hospitals / diagnostic centres and CGHS Rates is given below.
Visit Central Government Health Scheme Ministry of Health & Family welfare government of India official portal.
At home page, go to beneficiaries and click on "Empanelled Hospitals and Rates".
Direct link https://cghs.nic.in/reports/view_hospital.jsp.
Select Hospitals / Diagnostics Centre or Approved Rates for Procedures and select city then click on "Submit" button to Search Hospital.
Note : Pdf File Will Be Uploaded soon For all Cities Hospitals With Location, Address – CGHS Hospitals
Who is eligible for CGHS?
All Central Government employees paid from the Central Civil Estimates (except Railways and Delhi Administration), including their dependant family members residing in CGHS covered areas.
Pensioners of Central Government (except pensioners belonging to Railways and the Armed Forces) and their families