DU Colleges List 2022 Latest For Arts, Science, Commerce, BBA Courses – The University of Delhi (UOD), informally known as the University of Delhi (DU), is a collegiate public central university, located in New Delhi, India. It was established in 1922 by an Act of the Central Legislative Assembly. As a collegiate university, its main functions are divided between the academic departments of the university and the affiliated colleges. Consisting of three colleges, two faculties and 750 students at the time of its inception, The University of Delhi has since become India's largest higher education institution and the largest institution in the world. The university currently has 16 faculties and 86 departments which are distributed across its North and South campuses and enrolls over 162,000 regular students and 261,000 non-formal students. Andhra Pradesh New Cabinet Ministers List 
There are a total of 91 constituent colleges in Delhi University which have the support of the nodal body. These colleges are classified as Delhi University North Campus College and Delhi University South Campus College. DU is best known for providing students with rich learning experiences that can help them get good opportunities in their respective career paths. Many 10+2 students and new graduates are eager to get admission in delhi university's accredited colleges for their educational goals. The university easily receives over 2 lakh applications every year.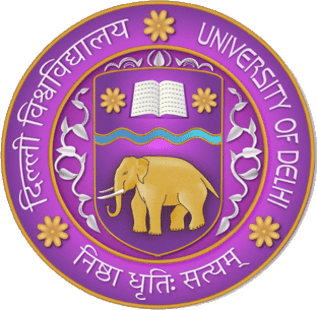 The list of DU colleges is given below.
Acharya Narendra Dev College
Aditi Mahavidyalaya
Ahilyabai College of Nursing
Amar Jyoti Institute of Physiotherapy
Atma Ram Sanatan Dharma College
Ayurvedic & Unani Tibbia College
Bhagini Nivedita College
Bharati College
Bhaskraycharya College of Applied Sciences
Bhim Rao Ambedkar College
College of Arts
College of Pharmacy
College of Vocational Studies
Daulat Ram College
Deen Dayal Upadhayay College
Delhi College of Arts & Commerce
Delhi College of Engineering
Delhi School of Economics
Deshbandhu College
Deshbandhu College (Evening)
Dyal Singh College
Dyal Singh College (Evening)
Faculty of Management Studies
Gargi College
Hans Raj College
Hindu College
Indira Gandhi Institiute.of Physical. Education & Sports Sciences
Indraprastha College for Women – IP
Institute of Home Economics
Institute of Physically Handicapped
Janki Devi Memorial College
Jesus & Mary College
Kalindi College
Kamala Nehru College
Keshav Mahavidyalaya
Kirori Mal College
Lady Harding Medical College
Lady Irwin College
Lady Shri Ram College for Women
Lakshmi Bai College
Maharaja Agrasen College
Maharishi Valmiki College of Education
Maitreyi College
Mata Sundri College for Women
Maulana Azad Medical College
Miranda House
Moti Lal Nehru College
Moti Lal Nehru College (Evening)
Nehru Homeopathic College
Netaji Subhas Institute of Technology
P.G.D.A.V. College
P.G.D.A.V. College (Evening)
Rajdhani College
Rajkumari Amrit Kaur College of Nursing
Ram Lal Anand College
Ram Lal Anand College (Evening)
Ramjas College
S.G.T.B. Khalsa College
S.G.T.B. Khalsa College (Evening)
Satyawati College
Satyawati College (Evening)
School of Correspondence Courses & Cont. Edu.
Shaheed Bhagat Singh College
Shaheed Bhagat Singh College (Evening)
Shaheed Rajguru College of Applied Sciences for Women [2]
Shaheed Sukhdev College of Business Studies
Sherubtse College
Shivaji College
Shri Ram College of Commerce
Shyam Lal College
Shyam Lal College (Evening)
Shyama Prasad Mukherjee College
Sri Aurobindo College
Sri Aurobindo College (Evening)
Sri Guru Gobind Singh College of Commerce
Sri Venkateswara College
St. Stephen's College
Swami Shraddhanand College
University College of Medical Sciences
Vivekanand College
Zakir Husain College
Zakir Husain College (Evening)
DU Colleges List 2022 Latest For Arts, Science, Commerce, BBA Courses
| Name of the College | Location | Campus/Area |
| --- | --- | --- |
| Acharya Narendra Dev College | Govindpuri | South Campus |
| Aditi Mahavidyalaya | Delhi Auchandi Road | North Campus |
| Atma Ram Sanatan Dharma College (ARSD) | Dhaula Kuan | South Campus |
| Aryabhatta College | Anand Niketan | South Campus |
| Bharati College | Janakpuri | West Delhi |
| Bhagini Nivedita College | Najafgarh | South West Delhi |
| College of Vocational Studies (CVS) | Sheikh Sarai | South Campus |
| Daulat Ram College (DRC) | Maurice Nagar | North Campus |
| Deen Dayal Upadhyaya College | Dwarka | South Campus |
| Delhi College of Arts and Commerce | Netaji Nagar | South Campus |
| Dyal Singh College | Lodhi Road | North Campus |
| Deshbandhu College | Kalkaji | South Campus |
| Gargi College | Siri Fort | South Campus |
| Hindu College | University Enclave | North Campus |
| Hans Raj College | Malka Ganj | North Campus |
| Indraprastha College for Women | Civil Lines | North Campus |
| Institute of Home Economics | Hauz Khas | South Campus |
| Jesus and Mary College | Chanakyapuri | Central Delhi |
| Janki Devi Memorial College | Old Rajinder Nagar | Central Delhi |
| Kamla Nehru College | Siri Fort | South Campus |
| Kalindi College | East Patel Nagar | West Delhi |
| Keshav Mahavidyalaya | Pitampura | North Campus |
| Kirori Mal College | University Road | North Campus |
| Lady Irwin College | Mandi House | Central Delhi |
| Lady Shri Ram College for Women (LSR) | Kailash Colony | South Campus |
| Lakshmibai College | Ashok Vihar | South Campus |
| Maharaja Agrasen College | Vasundhara Enclave | East Delhi |
| Maharishi Valmiki College of Education | Geeta Colony | East Delhi |
| Maitreyi College | Chanakyapuri | South Campus |
| Miranda House | University Road | North Campus |
| Mata Sundri College for Women | Mata Sundri Lane | Central Delhi |
| Moti Lal Nehru College | Benito Juarez Marg | South Campus |
| P.G.D.A.V. College | Nehru Nagar | West Delhi |
| Ramjas College | University Enclave | North Campus |
| Ram Lal Anand College | South Moti Bagh | South Campus |
| Rajdhani College | Raja Garden | West Delhi |
| Ramanujan College | Kalkaji | South Campus |
| Satyawati College | Ashok Vihar | South Campus |
| Satyawati College (Evening) | Ashok Vihar | South Campus |
| Shaheed Bhagat Singh College | Sheikh Sarai | South Campus |
| Shaheed Bhagat Singh College (Evening) | Sheikh Sarai | South Campus |
| Shivaji College | Raja Garden | West Delhi |
| Shyam Lal College | Shahdara | North Campus |
| Shyam Lal College (Evening) | Shahdara | North Campus |
| Shaheed Sukhdev College of Business Studies | Rohini | North Campus |
| Shri Ram College of Commerce (SRCC) | University Road | North Campus |
| Sri Aurobindo College | Malviya Nagar | South Campus |
| Sri Aurobindo College (Evening) | Malviya Nagar | South Campus |
| Shyama Prasad Mukerji College for Women | West Punjabi Bagh | West Delhi |
| Sri Guru Gobind Singh College of Commerce | Pitampura | West Delhi |
| Sri Guru Nanak Dev Khalsa College | Karol Bagh | West Delhi |
| Sri Guru Tegh Bahadur Khalsa College | University Road | North Campus |
| St. Stephen's College | University Enclave | North Campus |
| Sri Venkateswara College | Dhaula Kuan | South Campus |
| Swami Shraddhanand College | Alipur | South Campus |
| Vivekananda College | Vivek Vihar | East Delhi |
| Zakir Husain Delhi College | Ajmeri Gate | Central Delhi |
| Ahilya Bai College of Nursing | LNJP Colony | Central Delhi |
| Amar Jyoti Institute of Physiotherapy | Anand Vihar | East Delhi |
| Ayurvedic & Unani Tibbia College | Karol Bagh | West Delhi |
| Bhaskaracharya College of Applied Sciences | Dwarka | West Delhi |
| Bhim Rao Ambedkar College | Yamuna Vihar | East Delhi |
| Chacha Nehru Bal Chikitsalaya | Geeta Colony | East Delhi |
| College of Arts | Tilak Marg | Central Delhi |
| College of Nursing at Army Hospital (R&R) | Benito Juarez Marg | South Delhi |
| Delhi Institute of Pharmaceutical Science & Research | Pushpvihar | South Delhi |
| Durga Bai Deshmukh College of Special Edu. (VI) | Lal Bahadur Shastri Marg | South Delhi |
| Holy Family College of Nursing | Okhla | South Delhi |
| Indira Gandhi Institute of Physical Education & Sports Sciences | Vikaspuri | West Delhi |
| Lady Hardinge Medical College | Connaught Place | Central Delhi |
| Maulana Azad Institute of Dental Sciences | LNJP Colony | Central Delhi |
| Maulana Azad Medical College | LNJP Colony | Central Delhi |
| Nehru Homeopathic Medical College & Hospital | Defence Colony | South Delhi |
| Netaji Subhash Institute of Technology | Dwarka | West Delhi |
| Pt. Deendayal Upadhyaya Institute of Physically Handicapped | Vishnu Digamber Marg | Central Delhi |
| Rajkumari Amrit Kaur College of Nursing | Lajpat Nagar | South Delhi |
| School of Open Learning | Cavalry Road | North Campus |
| School of Rehabilitation Sciences | Hauz Khas | South Delhi |
| Shaheed Rajguru College of Applied Sciences for Women | Vasundhara Enclave | East Delhi |
| University College of Medical Sciences | Dilshad Garden | North East Delhi |
| Vallabhbhai Patel Chest Institute | Vijay Nagar | North Delhi |
| Zakir Husain Post Graduate Evening College | Ajmeri Gate | Central Delhi |
| National Institute of Health & Family Welfare | Munirka | South Delhi |
| Kasturba Hospital | Jama Masjid | South Delhi |
| Institute of Human Behaviour & Allied Sciences | Dilshad Garden | North East Delhi |
| G.B. Pant Hospital | Jawaharlal Nehru Marg | Central Delhi |
| All India Institute of Ayurveda | Gautam Puri | South Delhi |
| Dyal Singh College (Evening) | Pragati Vihar | South Delhi |
| Moti Lal Nehru College (Evening) | Benito Juarez Marg | South Campus |
| P.G.D.A.V. College (Evening) | Nehru Nagar | South Campus |
| Florence Nightingale College of Nursing | GTB Enclave | North Campus |
| | |
| --- | --- |
| DU Colleges List PDF Download  | DU List |