Virat Kohli Centuries List 2023, 74 Centuries In All Formats Test, ODI, T20 – Virat Kohli is an Indian professional cricketer, who is considered one of the greatest batsmen of the present era. An intense, enthusiastic, ruthless and enthusiastic man who has taken India to new heights with his captaincy and batting. Check out Virat Kohli's list of centuries in Tests, ODI centuries, T20Is. He averages around 50 across all three formats and the entire cricket fraternity is terrified and amazed by his ability on the cricket field. The proof of his success and superb batting is evident from the number of centuries scored in such a short time.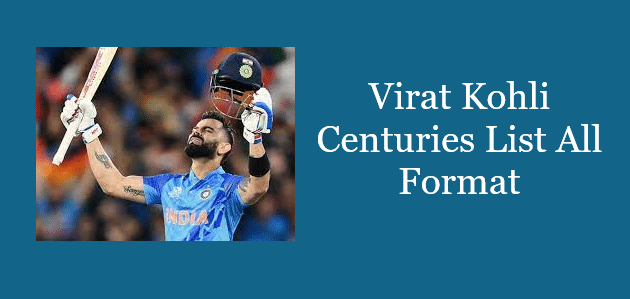 Virat Kohli Century List 2023 | 74 In All Formats Test, ODI, T20
Virat Kohli Centuries List  – Virat Kohli's century is really special. Many batsmen scored centuries but King Kohli's talk is something else. He is also called Virat 'The Run Machine' Kohli by commentators. When he starts batting, the opposition wants to get him out as soon as possible because they know that if Kohli stops, the match will go out of his hands.
Kohli Test Century list
Virat Kohli Centuries List – Kohli's first Test century came against Australia in Adelaide on 24 January 2012, when he scored 116 runs but lost the match. He scored his first century in India against New Zealand in Bangalore and helped India win the game.
He has scored centuries in all the countries he has played in. His highest score came against South Africa at the Maharashtra Cricket Stadium in Pune on 254 October 2019
| | | | | | |
| --- | --- | --- | --- | --- | --- |
| S.No. | Date | Against | Score | Venue | Result |
| 1 | 24-Jan-12 | Australia | 116 | Adelaide Oval, Adelaide | Lost |
| 2 | 31-Aug-12 | New Zealand | 103 | M. Chinnaswamy Stadium, Bangalore | Won |
| 3 | 13-Dec-12 | England | 103 | Vidarbha Cricket Association Stadium, Nagpur | Drawn |
| 4 | 22-Feb-13 | Australia | 107 | M. A. Chidambaram Stadium, Chennai | Won |
| 5 | 18-Dec-13 | South Africa | 119 | Wanderers Stadium, Johannesburg | Drawn |
| 6 | 14-Feb-14 | New Zealand | 105 | Basin Reserve, Wellington | Drawn |
| 7 | 09-Dec-14 | Australia | 115 | Adelaide Oval, Adelaide | Lost |
| 8 | 09-Dec-14 | Australia | 141 | Adelaide Oval, Adelaide | Lost |
| 9 | 26-Dec-14 | Australia | 169 | Melbourne Cricket Ground, Melbourne | Drawn |
| 10 | 06-Jan-15 | Australia | 147 | Sydney Cricket Ground, Sydney | Drawn |
| 11 | 12-Aug-15 | Sri Lanka | 103 | Galle International Stadium, Galle | Lost |
| 12 | 21-Jul-16 | West Indies | 200 | Sir Vivian Richards Stadium, North Sound | Won |
| 13 | 08-Oct-16 | New Zealand | 211 | Holkar Stadium, Indore | Won |
| 14 | 17-Nov-16 | England | 167 | ACA-VDCA Cricket Stadium, Visakhapatnam | Won |
| 15 | 08-Dec-16 | England | 235 | Wankhede Stadium, Mumbai | Won |
| 16 | 09-Feb-17 | Bangladesh | 204 | Rajiv Gandhi International Cricket Stadium, Hyderabad | Won |
| 17 | 26-Jul-17 | Sri Lanka | 103 | Galle International Stadium, Galle | Won |
| 18 | 16-Nov-17 | Sri Lanka | 104 | Eden Gardens, Kolkata | Drawn |
| 19 | 24-Nov-17 | Sri Lanka | 213 | Vidarbha Cricket Association Stadium, Nagpur | Won |
| 20 | 02-Dec-17 | Sri Lanka | 243 | Feroz Shah Kotla Ground, Delhi | Drawn |
| 21 | 13-Jan-18 | South Africa | 153 | SuperSport Park, Centurion | Lost |
| 22 | 01-Aug-18 | England | 149 | Edgbaston Crikcet Ground | Lost |
| 23 | 18-Aug-18 | England | 103 | Trent Bridge, Nottingham | Won |
| 24 | 04-Oct-18 | West Indies | 139 | Saurashtra Cricket Association Stadium | Won |
| 25 | 14-Dec-18 | Australia | 123 | Perth Stadium, Perth | Lost |
| 26 | 10-Oct-19 | South Africa | 254 | Maharashtra Cricket Association Stadium, Pune | Won |
| 27 | 22-Nov-19 | Bangladesh | 131* | Eden Gardens, Kolkata | Won |
Virat Kohli ODI Century List
| | | | | | |
| --- | --- | --- | --- | --- | --- |
| S.No. | Date | Against | Score | Venue | Result |
| 1 | 24-Dec-09 | Sri Lanka | 107 | Eden Gardens, Kolkata | Won |
| 2 | 11-Jan-10 | Bangladesh | 102 | Shere Bangla National Stadium, Dhaka | Won |
| 3 | 20-Oct-10 | Australia | 118 | APCA-VDCA Stadium, Visakhapatnam | Won |
| 4 | 28-Nov-10 | New Zealand | 105 | Nehru Stadium, Guwahati | Won |
| 5 | 19-Feb-11 | Bangladesh | 100 | Shere Bangla National Stadium, Dhaka | Won |
| 6 | 16-Sep-11 | England | 107 | Sophia Gardens, Cardiff | Lost |
| 7 | 17-Oct-11 | England | 112 | Feroz Shah Kotla Ground, Delhi | Won |
| 8 | 02-Dec-11 | West Indies | 117 | APCA-VDCA Stadium, Visakhapatnam | Won |
| 9 | 28-Feb-12 | Sri Lanka | 133 | Bellerive Oval, Hobart | Won |
| 10 | 13-Mar-12 | Sri Lanka | 108 | Shere Bangla National Stadium, Dhaka | Won |
| 11 | 18-Mar-12 | Pakistan | 183 | Shere Bangla National Stadium, Dhaka | Won |
| 12 | 21-Jul-12 | Sri Lanka | 106 | MRIC Stadium, Hambantota | Won |
| 13 | 31-Jul-12 | Sri Lanka | 128 | R. Premadasa Stadium, Colombo | Won |
| 14 | 05-Jul-13 | West Indies | 102 | Queen's Park Oval, Port of Spain | Won |
| 15 | 24-Jul-13 | Zimbabwe | 115 | Harare Sports Club, Harare | Won |
| 16 | 16-Oct-13 | Australia | 100 | Sawai Mansingh Stadium, Jaipur | Won |
| 17 | 30-Oct-13 | Australia | 115 | VCA Stadium, Nagpur | Won |
| 18 | 19-Jan-14 | New Zealand | 123 | McLean Park, Napier | Lost |
| 19 | 26-Feb-14 | Bangladesh | 136 | Khan Shaheb Osman Ali Stadium, Fatullah | Won |
| 20 | 17-Oct-14 | West Indies | 127 | HPCA Stadium, Dharamshala | Won |
| 21 | 16-Nov-14 | Sri Lanka | 139 | JSCA International Stadium, Ranchi | Won |
| 22 | 15-Feb-15 | Pakistan | 107 | Adelaide Oval, Adelaide | Won |
| 23 | 22-Oct-15 | South Africa | 138 | M. A. Chidambaram Stadium, Chennai | Won |
| 24 | 17-Jan-16 | Australia | 117 | Melbourne Cricket Ground, Melbourne | Lost |
| 25 | 20-Jan-16 | Australia | 106 | Manuka Oval, Canberra | Lost |
| 26 | 23-Oct-16 | New Zealand | 154 | Punjab Cricket Association IS Bindra Stadium, Mohali | Won |
| 27 | 15-Jan-17 | England | 122 | Maharashtra Cricket Association Stadium, Pune | Won |
| 28 | 06-Jul-17 | West Indies | 111 | Sabina Park, Kingston | Won |
| 29 | 31-Aug-17 | Sri Lanka | 131 | R. Premadasa Stadium, Colombo | Won |
| 30 | 03-Sep-17 | Sri Lanka | 110 | R. Premadasa Stadium, Colombo | Won |
| 31 | 22-Oct-17 | New Zealand | 121 | Wankhede Stadium, Mumbai | Lost |
| 32 | 29-Oct-17 | New Zealand | 113 | Green Park Stadium, Kanpur | Won |
| 33 | 01-Feb-18 | South Africa | 112 | Kingsmead Cricket Ground, Durban | Won |
| 34 | 07-Feb-18 | South Africa | 160 | Newlands Cricket Ground, Cape Town | Won |
| 35 | 16-Feb-18 | South Africa | 129 | SuperSport Park, Centurion | Won |
| 36 | 21-Oct-18 | West Indies | 140 | Barsapara Cricket Ground, Guwahati | Won |
| 37 | 24-Oct-18 | West Indies | 157* | ACA-VDCA Stadium, Visakhapatnam | Tie |
| 38 | 27-Oct-18 | West Indies | 107 | MCA Stadium, Pune | Lost |
| 39 | 15-Jan-19 | Australia | 104 | Adelaide Oval, Adelaide | Won |
| 40 | 05-Mar-19 | Australia | 116 | Vidarbha Cricket Association Stadium, Nagpur | Won |
| 41 | 08-Mar-19 | Australia | 123 | JSCA International Stadium Complex, Ranchi | Lost |
| 42 | 11-Aug-19 | West Indies | 120 | Queen's Park Oval, Port of Spain | Won |
| 43 | 14-Aug-19 | West Indies | 114* | Queen's Park Oval, Port of Spain | Won |
| 44 | 10 December 2022 | Bangladesh | 113 | Zohur Ahmed Chowdhury Stadium, Chittagong | Won |
| 45 | 10 January 2023 | Sri Lanka | 113 | Barsapara Cricket Stadium, Guwahati | Won |
| 46 | 15 January 2023 | Sri Lanka | 166* | Greenfield International Stadium, Kerala | Won |