Physical 100 Contestants List With Photos 2023 : Check Full List Of all Contestants Who Participated TV Show. Right Now Show is Streaming Online On Netflix. This Show Is Getting Very Popular On Netflix. In This TV Shows There Are Total 9 Episodes. Here We Are providing You Complete List Of all Contestants.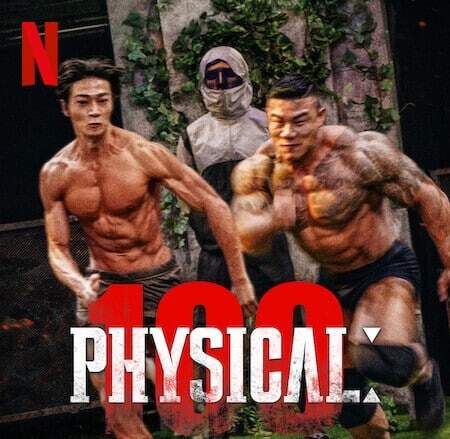 Physical 100 Full Cast List Netflix With Photos
TV Show 
Physical 100
Now Streaming On
 Netflix
Episodes 
9 Episodes
Episodes Release Schedule 

Episode 1: January 24, 2023
Episode 2: January 24, 2023
Episode 3: February 1, 2023
Episode 4: February 1, 2023
Episode 5: February 7, 2023
Episode 6: February 7, 2023
Episode 7: February 14, 2023
Episode 8: February 14, 2023
Episode 9 (season finale): February 21, 2023

Post Category 
Cast List
Post Published by 
Sarkarilist.Com 
Physical 100 Netflix Show Full Star Cast :
Here Is The Complete Cast Of the Show. Check All Names below. Physical 100 Contestants List. Physical 100 Full Cast List Netflix.
Kim Sung-hun: Personal trainer and fitness Model
Son Hee-dong: Professional wrestler
Kim Ji-han: Volleyball player
Yun Seok-hwan: South Korean national swimmer
Kim Kyung-jin: YouTuber and farmer
YOYO: Model
Nam Kyung-jin: Professional wrestler
Kwak Myung-sik: CrossFitter
Carlos: CrossFitter
Park Jung-ho: Prison officer
Jang Seong-min: South Korean national rugby player
Kim Chun-ri: Bodybuilder
Kkang Mi: YouTuber and reserve sergeant
An Da-jeong: Bodybuilder
Son Hee-chan: Professional wrestler
Jang Eun-sil: Professional wrestler
BBULKUP: YouTuber, CEO of a catering business, and former bodybuilder
Ma Sun-Ho: Bodybuilder
Kang Chun-il: Pilates instructor and dancer
Park Hyung-geun: MMA Fighter
Jo Jin-hyeong: Car dealer and strongman athlete
Miracle Nelson: Dancer, model, and bodybuilder
Kim Ji-wook: South Korean national diver
Seong Chi-hyun: Fitness model and casino dealer
Yoo Sang-hoon: MMA Fighter
Joo Dong-jo: MMA Fighter
Lee Guk-young: Bodybuilder, dancer, and musical actor
Cho Hyun-mi: Professional boxer
Lee Juh-yung: Professional ice hockey player
Seo Ha-yan: CrossFit coach
Jeong Bo-kyeong: South Korean national judoka
Choi Kyu-tae: Model and dancer
Choi Min-yong: Marathon runner
Dustin Nippert: Former KT Wiz baseball player
Choi In-ho: Strongman athlete and personal trainer
Florian Krapf: Fitness model, YouTuber, and TV personality
Kim Gil-hwan: Scuba diver and YouTuber
Kim Min-cheol: Mountain Rescue Team and national team ice climber
Kim Byeong-jin: South Korean national taekwondo athlete
Kim Sang-wook: MMA Fighter
Kim Eun-ji: Competitive fitness model and YouTuber
Kim Jeong-uk: Fitness model and bodybuilder
Vita Mikju: Pole sports athlete
Park Seon-kwan: South Korean national swimmer
Park Jong-hyeok: Fitness model and coach
Park Jin-yong: South Korean national luger
Bang Seong-hyeok: Personal trainer
Cho Jung-myung: South Korean national luger
Chae Wan-ki: Jiu-jitsu athlete
Ha Je-yong: Powerlifting athlete and former arm wrestler
Hwang Bit Yeo Ul: CrossFitter
Kim Kyeong-baek: Former UDT Drill Instructor
Kim Da-young: Stuntwoman
Kim Sik: South Korean national skeleton coach and former bobsledder
Lee Min U: Chef
Lee Ye-ji: MMA fighter
Im Jeong-yun: College student and fitness model
Jo Yeon-joo: Cheerleader
Jo I Taek: Actor
Choi Sung-hyuk: Pole sports athlete
Ko Da-young: Pilates instructor
Bang Ji-hoon: Bodybuilder
DBO: Rapper
Austin Kang: Chef and TV Personality
Woo Jin-yong: CrossFitter, former snowboarder and Coach
Yoo Ga-ram: Inline skater
Yoon Jun-hyeop: Model
Lee Dah-yun: Professional wrestler
Lee Dae-won: Trot Singer and MMA fighter
Lee So-young: Fitness model
Lee Jun-myeong: Calisthenics coach
Miho: Personal trainer
Elaine: Actress and TV personality
Jeon Min-seok: Coast Guard officer
Jeon Young: Movie choreographer
Jeong Han-saem: Musical actor and model
Jung Hae-min: Professional cyclist
Ovan: Singer-songwriter
Park Ji Su: Bodybuilder and South Korean national rugby player
Park Min-ji: Actress
Tarzan: YouTuber
Seol Ki-kwan: South Korean national bodybuilder
Shin Dong-guk: Firefighter, MMA Fighter, and former RoK Special Forces soldier
Shin Bo Mi-rae: Boxer
Shin Se-gae: Stuntman
Choo Sung-hoon: MMA fighter and judoka
Yun Sung-bin: Olympic skeleton racer
Yang Hak-seon: Olympic gymnast
Hwang Ji-Hun, aka "Agent H": YouTuber and former UDT/SEAL
Caro: CrossFitter and YouTuber
Hong Beom-seok: YouTuber, RoK former Special Forces soldier and firefighter
Jjang Jae, aka "The eTool": YouTuber and former UDT/SEAL
Shim Eu-ddeum: YouTuber and former competitive fitness model
Kim Kang-min: Bodybuilder
Song A-reum: Bodybuilder
Cha Hyun-seung: Dancer and model
Lee Yong Seung: Bodybuilder and YouTuber
Kim Ye-hyun: Bodybuilder and former fencer
Kang Han: South Korean national bobsledder
Kim Sung-jun: Fitness model
Physical 100 Netflix Female Cast:
Elaine Yuki Wong
Kim Eun-ji
Jang Eun-sil
Shim Eu-ddeum
An Da-jeong
Kkang Mi
Jo Yeon-joo
Lee Da-hyeon
Song A-reum
Kim Chun-ri
Park Min-ji
She loves sports.
Choi Hyun-Mi
Jeong Bo-kyeong
What time do new episodes of Physical 100 drop on Netflix Every Week ?
New episodes of the series have been arriving in pairs on Tuesdays. The series debuted on Netflix back on January 24, 2023. Here is List of timezones so you know when you can get watching the rest of the series:
12 am PDT
3 am EDT
5 am Brazil
8 am UK
9 am CEST
1.30 pm India Standard Time
7 pm Australia
9 pm New Zealand
Where can you watch Physical: 100 Tv Show Online ?
As a Netflix original, you can only Watch Physical: 100 on Netflix.
How Many Episodes in Physical 100 Tv Show?
There are 9 episodes in total, and two episodes will be released every Tuesday. The 9th episode will premiere individually on 21st February 2023.
How many contestants were to advance to final quest on Physical 100 Show?
Physical 100 aired two more episodes of its series on Tuesday, February 14, 2023, at 3 am ET On Netflix. Only 20 contestants remained to battle in the fourth challenge before the final quest.
What Is Name Eliminated members After Episode 7 In Physical 100 Show?
Jang Eun-sil
Seo Ha-yan
Miho
Park Hyung-geun
Yang Hak-seon
Kim Sang-wook
Lee Jun-myeong
Choi Sung-hyuk
Seong Chi-hyun
Sim Eu-ddeum
What Was The theme of the fourth quest on Physical 100 TV Show On Netflix?
The theme of the fourth quest on Physical 100 Show On netflix was ancient mythology.